I live in the town of Halifax, which is a cute little town just north of Harrisburg, Pennsylvania. I like that it that way.
My family is my world. That's us at the banks of the York River in Yorktown, Virginia. (photo by my awesome brother-in-law, who is also a wedding photographer!)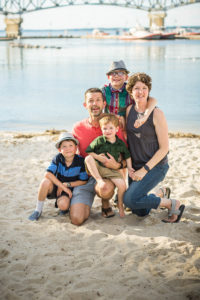 I first met my wife in a Psychology 101 class, and knew I wanted to marry her after playing mini-golf at the beach. Ask me for details, cause it's an awesome story.
We have three boys, and yes, it's as crazy as it sounds. If you give me a call, chances are you'll be hearing one or all of them in the background.
I love to run (for fitness and for some solid alone time), to read, to play music, and to eat (also a reason why I run!).
I love listening to, watching, and creating stories. I'd love to chat today about how I can tell your story.